Classes & Programs
Football
High School Football Academy
This class is designed to help athletes develop speed, explosion, and quickness, in an effort to make you the best football player you can be!
Tuesdays and Thursdays – 5:00-6:00pm
Nov: 1, 3, 8, 10, 15, 17, 22, (OFF Thanksgiving), 29
Dec: 1, 6, 8, 13, 15, 20, 22, 27, 29
Jan: 3, 5, 10, 12, 17, 19, 24, 26, 31
Feb: 2, 7, 9, 14, 16, 21, 23,
Hogs and Dogs Power Program
This Program is designed for both offensive and defensive lineman.
This program consists of 2 – 12 week cycles over winter
First cycle will be 11/28 – 2/17
Second cycle will be 2/20 – 5/12
This program will focus on strength and power for lineman.
Included will be:
a. group sessions every Wednesdays from 7-8pm which will focus on movements and technique that correlate directly to the game and position; triple extension, lateral movements, explosion and reaction, etc.
b. Our coach me plus membership that have a strength and power program for the athletes to come in to complete their workouts for the week
c. Full access to our recovery lounge.
d. Nutrition consultation and accountability to ensure the athletes participating are fueling their body correctly to meet their goals of muscle gain and performance gains.
Pricing: 1st – 12 week program – $549.99
               2nd – 12 week program – $549.99 
              Complete 24 week program – $949.99 
*Please call for details on autopay payment options.
Football Training
Football Private Training Options
Football position specific skills sessions: Synergy staff can work with athletes on OL/DL, WR, DB, LB skills in a private setting. We have staff members with both college and professional experience.
Strength, Speed, and Movement sessions for the football player: We can focus on movement and athleticism for the football athlete. Private sessions will focus on explosiveness, linear/lateral quickness, strength and mobility, etc.
Combine Prep Private sessions: These sessions can individually work on all the tests that will be evaluated in a combine. (5-10-5,  L-Drill, Vertical, Broad Jump, 40 yd sprint, etc.) 
Team Sessions are also available with team pricing. 
For more information please contact us at 920-632-4185 or email us at [email protected]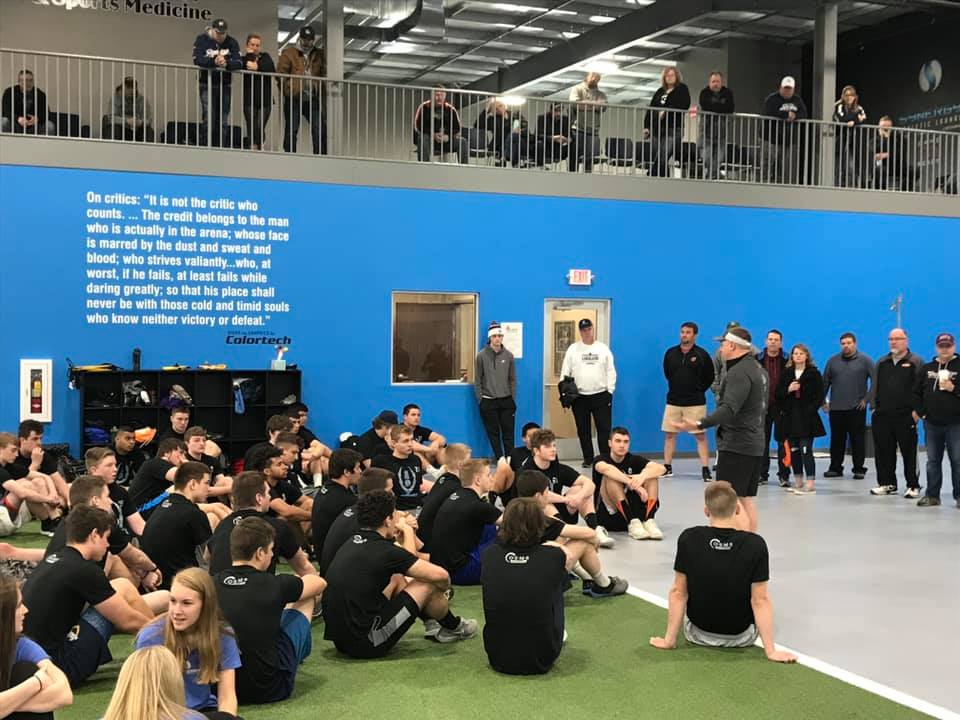 Harsh winters and sweltering summers can hamper any Midwest athlete's speed training. Don't let your training suffer because you don't have access to a proper training facility. Synergy Sports Performance has the space and field quality to accommodate authentic speed training and the faculty to develop players into the top-tier athletes they have the potential to be. All athletes are required to sign a waiver prior to participating in all activities at Synergy Sports Performance. Please download the waiver and bring the signed copy with you to your first match.
Try our recovery lounge on us
One day pass to our state of the art recovery lounge free.