Scotty Smith
Owner and Founder of Synergy Sports Performance
Scotty is the owner and founder of Synergy Sports Performance. He is a graduate of the University of Northern Iowa where he majored in fitness and sports management. He has been training in the Green Bay area for over 15 years and is a 20 year veteran of Strength and conditioning. He began his career in Green Bay working for the Green Bay Packers and then moving on to 10 years in Sports Medicine/Strength and conditioning with local area hospitals. He has spent some of his time working with groups like USHL Junior league hockey, IFL,AFL and NFL football athletes. College experience includes working with athletes from UW-Wisconsin Green Bay and St Norbert college. Scotty has been a long time member of the National Strength and Conditioning Association and attends the CSCS continuing education courses yearly. He is a level 1 EXOS performance coach(Phoenix AZ), Level 1 USA Olympic lifting coach, and Levels 1&2 ROCKTAPE and RockBlades certified. And like all of our coaches certified in CPR and First Aid/AED. Scotty strongly believes in his continuing education in this business in order to bring back knowledge to his athletes.
Certifications: CSCS, USA Olympic Lifting, FMT Performance, FMT Blades, CPR/First AID/AED for Adult and Pediatric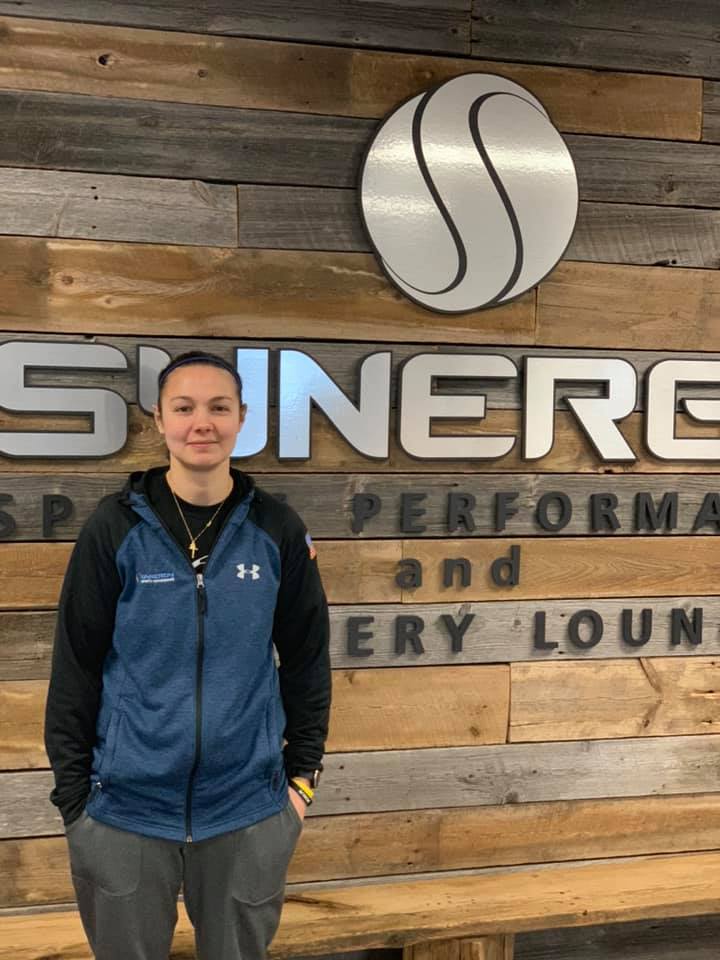 Natalie Van Roy
Operations Manager/ Performance Coach (Basketball skills)
Natalie has been with Synergy Sports Performance for 10 years. With the continuing growth of Synergy, she has also grown to take on more roles. Along with being a performance coach, Natalie now works as the operations manager for Synergy. She graduated from UW-Green Bay with a degree in Business Management and a minor in Psychology. With over 11 years of training experience, she has acquired many training certifications, and frequently attends continuing education courses. She was a division I athlete, playing basketball at UW-Green Bay where after graduation she was invited to a professional training camp for the Connecticut Sun of the WNBA. She found her love for sports performance training as an intern her junior year of college and has been training ever since. She has trained many athletes at all levels and sports. Her true passion is working with basketball athletes on fundamental skills training.
Certifications: NASM, NETA, TRX, FMT Basic, FMT Performance, FMT Blades, RockPods (Cupping Therapy), CPR/First AID/AED for Adult and Pediatric
Alex Wendorf
Performance Coach
Alex is a recent graduate of the University of Wisconsin-Oshkosh, where he majored in Kinesiology with an emphasis in Strength and Conditioning and a psychology minor. He was an offensive lineman during his time at UWO. He was 2x first team all WIAC, 2x All West Region Player and a DIII All-American. His background stems from watching athletes learn to grow and develop in both the clinical and internship setting. He has a fascination with all sports and the intricate movements that go along with them. He specializes in football performance, specifically offensive and defensive lineman, as well as strength and power development. "I've known training athletes is something I've wanted to do, ever since I had an effective trainer push me to become the best that I could be. I want to bring my knowledge base and trust to athletes so that they may perform at the highest level possible in sport." 
Certifications: Adult first aid/CPR/AED 
Nate Burchell
Performance Coach/ Adult Performance Coach
Nate has been with Synergy Sports Performance for 3 years. He graduated with a Psychology major from  St. Norbert college. He played college football at division two level and basketball and football in high school. Nate has a love for all sports and being able to teach the many movements that go along with them. Nate specializes in football performance, explosion and strength. "If the athletes are willing to give 100%, I'll give 110%. I want every athlete to be not only a higher level athlete but a better person."
Certifications: USA Olympic weightlifting, FMT Basic and FMT performance, CPR/First AID/AED
Bill Schroeder
Performance Coach - Track and Field and Football
Bill has been with Synergy Sports Performance for 9 years. He is a graduate of the University of Wisconsin at LaCrosse with A Bachelor of Science degree in physical education and an emphasis in coaching.  Bill was a track and field athlete during his time at UWL where he earned 17 All American and 8 National Championship honors. The Green Bay Packers drafted Bill after playing one year at UWL and he enjoyed in 11 year NFL career. He has continued relationships with past athletes and coaches to continue learning new exercises and techniques to help athletes at all levels.  Bill now continues coaching Track and Football at Ashwaubenon High School and has been coaching high school and college sports locally for the past 12 years. All athletes who are willing to put in the extra work is who Bill really enjoys working with as he loves to give the experience he has learned and experienced from others so they may succeed and reach all of their goals in their sport.
Certifications: CPR/First Aid/AED for adults and pediatric, WIAA track and field and football coaching
Brittany Jaeger
Nutrition Counselor and Performance Coach
Brittany graduated from the University of Wisconsin La Crosse with a degree in Public Health and Community Health Education with a minor in Nutrition. Brittany was a track and field athlete throughout high school and college where she earned a state champion title and an NCAA All-American honor. Brittany has three years of training experience and is currently working towards her master's degree in nutrition and dietetics. Brittany believes that peak athletic performance and personal health can only be achieved when all aspects of wellness are consciously and consistently worked on. With a strong work ethic, positive attitude, and great passion for health and helping others, Brittany's goal is to empower individuals to live and perform optimally in all facets of life.  
Her personal philosophy: "With discipline, dedication, and hard work, you can achieve ANY goal."
Ben Ash
Performance Coach
Ben is a Performance Coach with experience at the Division 1 level all the way down to youth athletics.  He graduated from East Carolina University in 2020 with a Masters of Science in Sports Management, earning his bachelor's degree in 2016 from Marian University of Wisconsin majoring in Kinesiology specializing in strength and conditioning.
During his time at East Carolina University while earning his Master's Ben was a Graduate Assistant Strength & Conditioning coach for the Pirate athletic program.  He was personally responsible for Men's/Women's Cross country and Mens/Womens Cheer & Dance. Along with his personal sports Ben also assisted with Football, Baseball, Men's/Women's Basketball, Volleyball along with all other sports when needed.
Ben is originally from Germantown, WI and graduated from Germantown High School in 2010.  In High School Ben played Football and competed in Track and Field.  Currently Ben lives in Wrightstown, WI with his new wife Taylor.
Certifications: CSCS, CPR/AED & First Aid
Brady Gruett
Performance Coach
Brady graduated from the University of Wisconsin-Madison with a bachelor's degree in athletic
training and more recently earned his master's degree from Concordia University Chicago in
applied exercise science with a concentration in strength and conditioning. He has undergraduate
experience providing athletic training services to a wide variety of athletes participating in
several sports. He has also worked in several positions at fitness facilities and assisted
individuals with various disabilities in improving their fitness. He attended Hilbert high school
where he participated in football, basketball, and track and field. He has always had an interest in
sports and athlete well-being that has grown into a passion for helping active individuals improve
their skills and reach their sports performance goals. Brady aims to use his knowledge and
experience to help his clients achieve their definition of success through an individualized
approach to training.
Certifications: ATC, NSCA-CPT, CPR/First AID/AED